ONE accelerates digitalisation by carrying out e-BDN adoption trial
ONE has previously conducted several rounds of e-BDN trials with partners.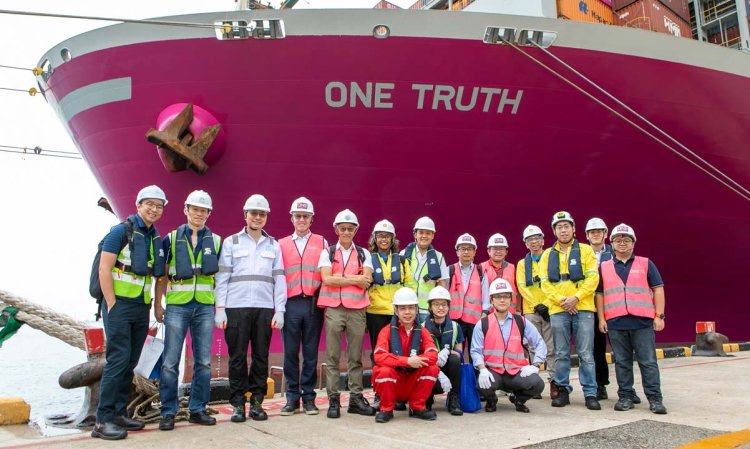 Ocean Network Express (ONE) is accelerating its digitalisation efforts with the latest successful trial with Shell, with support from the Maritime and Port Authority of Singapore (MPA), for the adoption of the electronic Bunker Delivery Note (e-BDN).
The e-BDN trial, using the digital bunkering solution developed by Angsana Technology, was conducted on 9 September 2023 at the Port of Singapore. As part of the trial, the cargo officer, chief engineer, and bunker surveyor logged in to the platform via their unique link and one-time password, to complete the electronic bunkering documentations for pre-delivery and post-delivery. Upon completion, the bunkering documents were transmitted to all parties before the vessels departed.
The adoption of e-BDN has always been a focal point for the digitalisation of international shipping. ONE has previously conducted several rounds of e-BDN trials with partners. At the MEPC80 session in July 2023, the International Maritime Organization (IMO) approved the acceptance of bunker delivery notes (BDNs) in both hard copy and digital formats, provided they meet the relevant requirements of MARPOL Annex VI.
The e-BDN trial by ONE and Shell also comes ahead of MPA's launch of its digital bunkering initiative to implement electronic bunkering processes and documentations from 1 November 2023, which is expected to save about 39,000 man-days per year for the bunker industry.
Mr. Teo Eng Dih, Chief Executive, MPA, commented:
"MPA is encouraged by the successful completion of the digital bunkering trial and we look forward to implementing electronic bunkering processes and documentations in the Port of Singapore progressively from November 2023 onwards. Apart from ensuring more secured and transparent operations when used with Mass Flow Meters, e-BDN will help build higher levels of trust amongst bunker buyers, suppliers, and financial institutions, and enable a more efficient and resilient ecosystem. The adoption of digital documentations at scale will help reduce business costs at the port ecosystem level and bring greater value to stakeholders across the entire bunkering value chain."
"We are excited to play a role in advancing e-BDN practices," Mr. Jeremy Nixon, ONE CEO said. "By adopting e-BDN, we will have greater visibility and reliability of our bunkering operations and a more sustainable footprint."
Operational Efficiency via the Vessel Digitalisation Program has been one of ONE's five decarbonisation key initiatives to achieve net zero emissions by 2050. Together with industry partners, ONE is committed to further accelerating shipping digitalisation and reducing emissions.