KM launches a new LARS solution for HUGIN®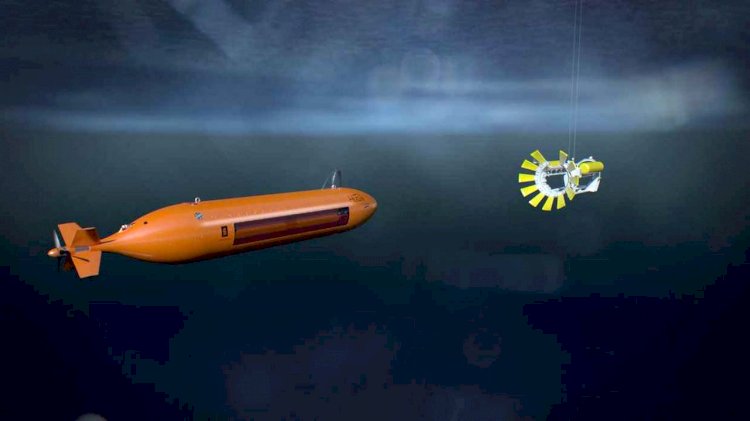 Photo: Kongsberg Maritime
The innovative Launch and Recovery System (LARS) for HUGIN launched today is developed in close collaboration between two Kongsberg Maritime divisions Sensors & Robotics and Deck Machinery & Motion Control (DMMC). It will increase efficiency, improve safety and reduce risk of damage to AUVs.
Lisa Edvardsen Haugan, EVP DMMC, says:
"The new LARS solution benefits from the uniquely integrated combination of advanced in-house technologies, reinforced with years of accumulated expertise. This project is a great example of how we benefit from working together in the new Kongsberg Maritime."
The new LARS operates from midships, with the release and capture of HUGIN marine robots occurring beneath the sea surface.
Launching and recovering AUVs under water, away from the splash zone, lessens the possibility of damage, while midships deployment averts any likelihood of AUVs being run over by the launch vessel. Another benefit is that launch and recovery done under the surface can be carried out in much higher sea states.
There are also tangible crew benefits. Operating the new LARS from midships will free up valuable aft deck space, and safety will be considerably enhanced as no personnel will be required to do manual work over the stern in potentially challenging conditions.
This project derives from months of collaboration between the Marine Robotics team in Horten and the Subsea team in Sunnmøre, Norway.
Johnny Aarseth, VP Subsea & Special Purpose, DMMC, says:
"Even before last year's merger of Kongsberg Maritime and the former Rolls-Royce Commercial Marine, this was an opportunity we had our eyes on."
He is part of a team with vast experience with LARS-systems used in the offshore industry, and had observed a need for a more robust solution for handling of AUV's.
Johnny says:
"Together we were able to develop a solution that allows for operation under almost any weather conditions, and provides for safer operation with less risk of damage to the AUV and harm to personnel, as there is no need for manual handling."
The new design has potential to win market shares in several areas.
Bjørn Gjelstad, Marine Robotics R&D manager, Kongsberg Maritime, says:
"There is quite a limitless scope for this new LARS design. It can of course be installed on newbuilds commissioned by naval forces, where it would aid the deployment of marine robots. It can also be installed into an AUV hangar on a platform supply vessel, or even retrofitted in a containerised solution."