KCC to pilot Starlink internet service at sea
Klaveness Combination Carriers ASA (KCC) is exploring the potential of improved vessel connectivity with a pilot of Starlink, a cutting-edge satellite internet service provisioned by Marlink.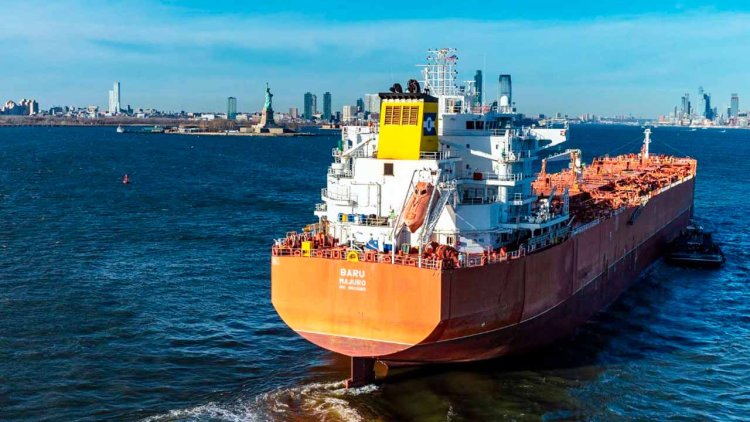 The move focuses on improving digital collaboration and data exchange between shore and ship, a key step in reaching KCC's ambitious targets set for crew safety/welfare and carbon emission reductions.
While shipping has made significant headway in ship technology and navigation, vessels continue to experience persistent challenges in connectivity, which hinders efficient collaboration with offices onshore. Taking traditional VSAT (Very Small Aperture Terminal) connectivity to the next level, Starlink uses a vast constellation of LEO (Low Earth Orbit) satellites to ensure high-speed, low-latency and high-capacity internet access even in the most remote maritime locations.
"Starlink holds the potential for our vessels to make a quantum leap beyond traditional satellite internet services. This will allow us to bring the vessel closer to home contributing to enhancing crew safety and welfare as well as further improving the efficiency of our operations and cutting the carbon footprint of our business," comments CEO Engebret Dahm.
As KCC pilots to technology, potential applications and benefits to the fleet include:
Enhanced onshore/offshore collaboration: The introduction of Starlink enables closer collaboration during vessel operations, and will ensure more efficient safety meetings between onshore and offshore teams.
Innovative safety training with KLASS: The Klaveness Always Safe and Secure (KLASS) program incorporates engaging gamification techniques into its educational and training resources, fostering a proactive safety culture.
Elevated crew well-being and entertainment: Crew members will experience improved connectivity for better communication with friends and family, while gaining improved access to onboard entertainment options.
Advancing remote inspections: This will build on the success of KCC's remote inspection initiatives first carried out in 2021.
Real-time sensor data and analytics: The ability to closely monitor vessel performance in real-time provides valuable insights into areas for potential improvement and optimization.
Accelerated digitalization adoption: The vessels are better positioned to fully embrace digitalization, enhancing process optimization, and enabling data-driven decision-making.
Empowering emerging technologies: With the maritime industry's adoption of IoT and Artificial Intelligence (AI) on the rise, the need for increased bandwidth on vessels becomes ever more crucial.
Efficient documentation handling: Time is saved through streamlined cargo swap and hull cleaning documentation procedures, while expanded support for video and image file sizes streamlines document handling processes.
KCC has installed Starlink on the CLEANBU vessel MV Baru as of September 2023, with CABU vessel MV Ballard currently being outfitted.