Jan De Nul successfully wraps up U.S. Coastal Virginia Offshore
Ørsted Wind Power North America LLC selected Jan De Nul Group to install a 12MW demonstrator Offshore Wind Farm, 27 miles off the coast of Virginia.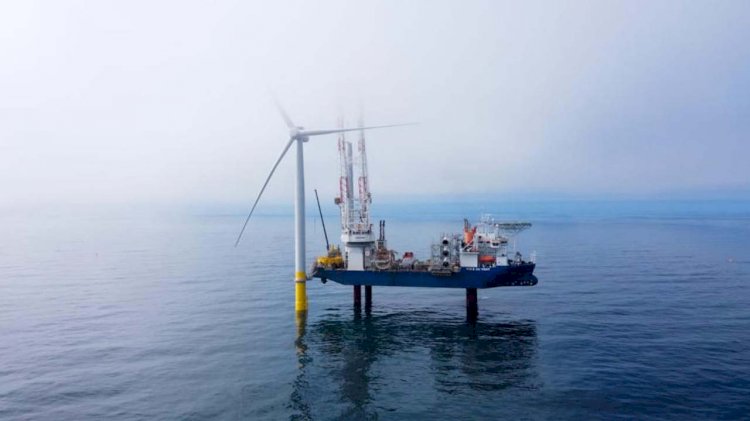 Photo: Jan De Nul
Jan De Nul Group's offshore installation vessels Vole au vent and Adhémar de Saint-Venant have left the United States after having successfully completed the installation of the Coastal Virginia Offshore Wind project.
The Coastal Virginia Offshore Wind project, owned by Dominion Energy, is based on an Ørsted design and is only the second offshore wind farm in U.S. waters, after the 30MW Block Island Wind Farm, commissioned in 2016 at 3 kilometres off the coast of Rhode Island. Moreover, the Coastal Virginia wind farm contains the very first offshore wind turbines in U.S. Federal Waters.
Philippe Hutse, Offshore Director of Jan De Nul Group, says:
"This contract is another important milestone for Jan De Nul's international expansion in offshore wind farm construction. After having expanded into Asia with the completion of the Formosa 1 Phase 2 project and with two further offshore wind projects under construction in Taiwan, Changhua OWF and Formosa 2 OWF, we are proud to have been able to support Dominion Energy and Ørsted in the U.S."
The scope for Jan De Nul Group included the transport and installation of both offshore foundations and wind turbines, as well as the procurement and installation of the scour protection. Each foundation is composed of a monopile and transition piece.
Peter De Pooter, Manager Offshore Renewables at Jan De Nul Group, concludes:
"This project is of great importance for Jan De Nul Group as it has given us the opportunity to work with local, state and federal government agencies in the U.S. and allowed us to familiarize ourselves with the construction of U.S. offshore wind farms."
Jan De Nul's offshore jack-up installation vessel Vole au vent delivered the installation works and was assisted by the multipurpose vessel Adhémar de Saint Venant to perform the scour protection works.