Italian terminal orders Konecranes Gottwald Mobile Harbor Crane
SERMI has decided to enlarge its fleet of mobile harbor cranes at its facility in the Port of Pozzallo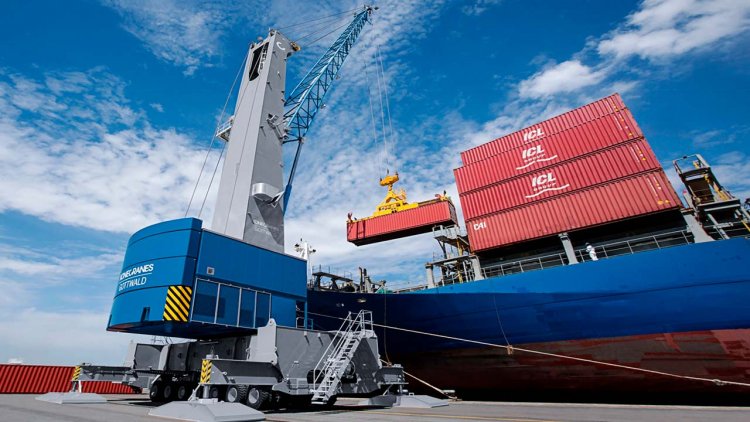 Photo: Konecranes
The port terminal operator SERMI in Pozzallo (Sicily) has ordered an eco-efficient Konecranes Gottwald Model 6 Mobile Harbor Crane to improve its overall capacity in container, general cargo and bulk handling.
The order, booked in Q1 2021, highlights Konecranes' commitment to the growth and transformation of customers and industries so they run more efficiently, sustainably and safely.
SERMI has decided to enlarge its fleet of mobile harbor cranes at its facility in the Port of Pozzallo, a major Mediterranean harbor handling containers shipped worldwide. SERMI ordered a Konecranes Gottwald Model 6 crane, which will increase the handling performance and reduce the operator's overall carbon footprint thanks to the crane's diesel-electric drive, raising the terminal to a new level of efficiency. It will be delivered in May 2021.
Vincenzo Venniro, owner and CEO of SERMI, said:
"For many years, we've provided the best industry services for our clients, who include some major local shipping lines. Our new Konecranes Gottwald mobile harbor crane will help us to continue meeting increasing customer demand for the traffic of containers worldwide at the highest level of quality, and in a more sustainable way."
Gino Gherri, Regional Sales Manager for Konecranes Port Solutions, says:
"The advanced electric drive at the heart of our cranes and the high performance that results perfectly fit the productivity and sustainability needs of SERMI. This agreement builds on years of good cooperation and we look forward to continuing on this path into the future."