Holland Shipyards Group to supply five fully-electric ferries to GVB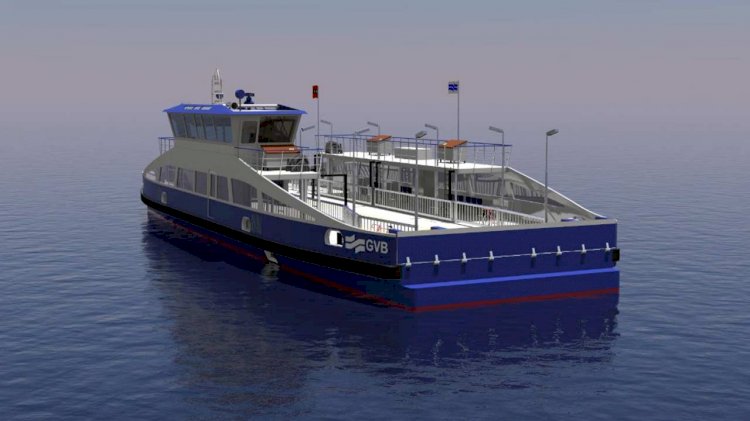 Photo: Holland Shipyards Group
After taking delivery of the IJveer-60 series, GVB, Amsterdams municipal public transport provider, has awarded Holland Shipyards Group a contract to build five new fully-electric ferries which will be operating in the North Sea Canal area. The first ferry is expected to enter service in 2021, the delivery of the last ferry will be in 2023.
The ferries, measuring 41,00 m long and 13,90 m wide, are intended to operate fully-electric and are charged by means of a 1.600 kW shore charging facility. Each ferry has a battery capacity of 2 x 340 kWh and a propulsion capacity of 2 x300 kW.
Charging the batteries takes approximately 3 minutes and is automatically done while boarding and unboarding the passengers and vehicles. The ferries have a capacity of 20 cars, 4 trucks or 400 passengers. The well-designed shore charging system is integrated in the infrastructure, which means the existing landings do not require large modifications.
The new fully-electric ferries will replace the current fleet, built in the 1930s. The replacement of the ferries is in line with the sustainability goals set by GVB and the Municipality of Amsterdam to provide zero-emission public transport in the Municipality of Amsterdam and surroundings.
Holland Shipyards Group has distinguished itself from the traditional shipbuilding market by actively seeking out and embracing projects with renewable components. For the ferry market batteries have proven to be an ideal solution, but also other renewable resources are investigated and Holland Shipyards Group is proud to also be involved in its first Hydrogen project.
‍The collaboration between Holland Shipyards Group and GVB has been a good one over the past years. Both parties have become experienced in electrification of vessels and the operational challenges that come with this process.
By delivering the current IJveer-60 series, the yard has delivered a noteworthy reference in the market, which has resulted in an orderbook consisting of mostly fully-electric vessels in 2020.