HamiltonJet unveils Electro-Hybrid Drive system
HamiltonJet has unveiled its new Electro-Hybrid Drive (EHX) system – innovative technology that offers all the advantages of electric drive with the full capabilities of diesel.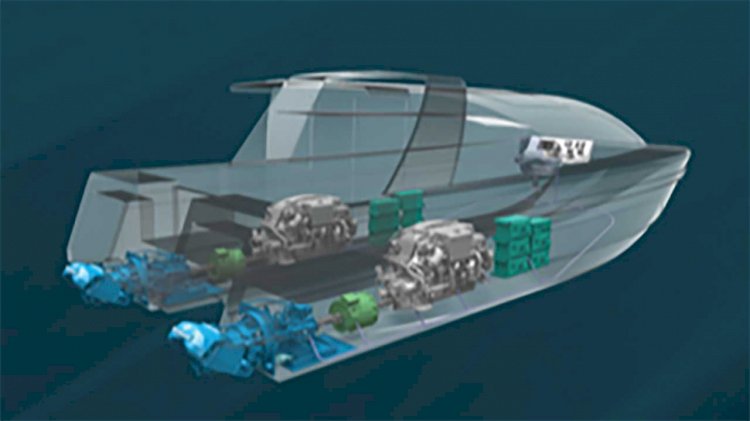 Photo: HamiltonJet
This unique system delivers lowers fossil fuel consumption (reduced further when dock charging, as infrastructure allows) combined with the speed, manoeuvrability, efficiency and safety waterjets are renowned for.
With EHX, HamiltonJet delivers the electric motors, power electronics and control system, alongside specialist expertise to ensure seamless integration with the waterjets, engines, gearboxes or clutches.
The control system manages the hybrid energy flow between engines, batteries and motors, while charging and discharging the batteries as required. A simple automatic setting enables effortless vessel operation, while a manual setting delivers four different modes of operation – Diesel Only, Electric Only, Charging or Electric Boost.
HamiltonJet CEO Ben Reed says collaborating on a large number of electric hybrid projects around the globe has seen the company become specialist integrators for hybrid electric technologies, which has led to the design of this innovative product.
Ben Reed says:
"When it comes to hybrid electric solutions, we know one size definitely does not fit all. That's why we've created a system that's scalable to individual vessel projects. Motors, battery capacity and components are all specifically selected based on bespoke need. It means we can ensure the very best outcome for the lowest cost."
EHX can also be configured for an electric-only vessel with the option of a fully integrated HamiltonJet solution.