HAL's holds naming ceremony for Rotterdam
Ship christened in namesake city in a ceremony steeped with tradition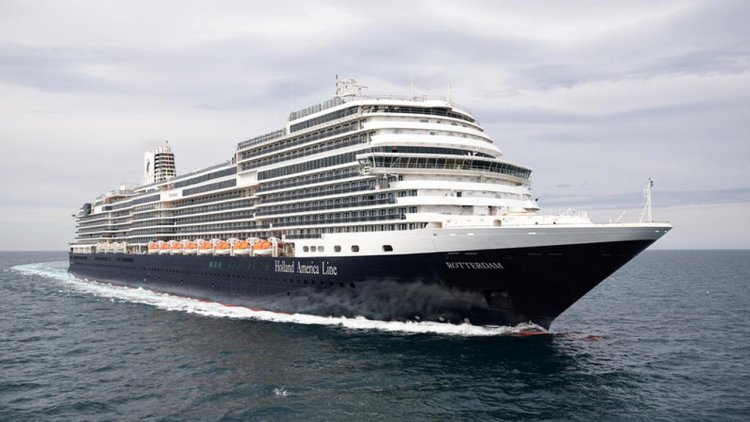 Photo: HAL
Holland America Line's flagship Rotterdam received the royal treatment in a ceremony rich with Dutch heritage May 30, 2022, in Rotterdam, the Netherlands. Her Royal Highness Princess Margriet of the Netherlands served as godmother and officially named the ship in front of invited dignitaries and guests.
Gus Antorcha, president of Holland America Line, said:
"Our heritage is rooted here in the Netherlands, and we are deeply honored to have Her Royal Highness Princess Margriet as godmother of her fifth Holland America Line ship. When Rotterdam was delivered in 2021 we postponed its naming ceremony so we could hold it in Rotterdam, because there's no better place to name a ship than in the city it was named after. After a challenging couple of years, we are excited to celebrate this memorable moment in our company's history."
Following the ceremony, a gala luncheon was held onboard for invited guests. The festivities continued into the evening with a gala dinner and the opportunity for guests to pour champagne over the ship's bell. The blessing of the ship's bell is a Holland America Line tradition when welcoming a new ship to the fleet.
The Geres were selected as Mariner Ambassadors for Rotterdam to honor Holland America Line's appreciation of its loyal guests who are long-time cruisers. Since first sailing in 1988 aboard Rotterdam V, the Geres have sailed nearly 2,500 days on Holland America Line, including several cruises on Rotterdam VI.
Holland America Line's connection to The House of Orange goes back nearly a century to Prince Hendrik launching Statendam III in 1929. Since then, members of the Dutch Royal Family have launched 11 more Holland America Line vessels throughout the years, including Her Royal Highness Princess Margriet who named Prinsendam (1972), Nieuw Amsterdam II (1983), Rotterdam VI (1997) and Oosterdam (2003).