Final quayside assembly of tidal energy kite Dragon 12 initiated in Sweden
The quayside completion of the kite enables an efficient shipment directly to Minesto's tidal energy production site in Vestmannasund, Faroe Islands.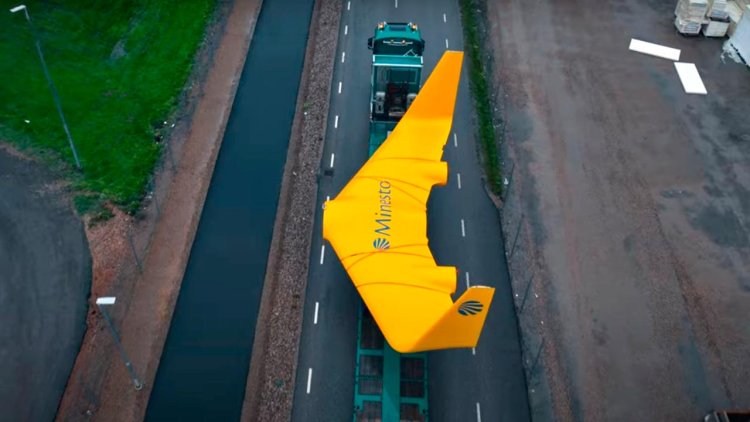 Minesto has completed the manufacturing of the Dragon 12 wing and started system integration at quayside in Uddevalla port, Sweden.
Minesto has now transported the first completed Dragon 12 wing to the port of Uddevalla for integration of subsystems and further transport to the production site in Vestmanna, Faroe Islands. Final system integration at quayside is logistically cost effective and reduce the need for complex and expensive transport of the large wing.
The wing, spanning 12 metres, is a key component in the Dragon 12 system to which all other modules connect. All subsystems, including the 1.2 MW power take off, steering pods, and control system are being prepared for integration.
"The Dragon 12 wing has a very efficient and uncompromised hydrodynamic design. It is practically a scale-up of the Dragon 4 wing, with some adjustments to allow for tighter turns and to cater for the higher forces resulting from a larger system", says Bernt Erik Westre, CTO of Minesto.
The manufacturer of the wing is Swedish composite specialist Elitkomposit. The cutting-edge supplier of advanced composite components is often contracted by high-tech industries such as the defence and space industry. Elitkomposit has previously delivered the wings for DG100, Dragon 2 and Dragon 4 along with other composite assemblies - thus been able to integrate previous experience into the utility scale Dragon 12 wing as well as the completion of the D12 rudders and elevators.
"The organic shape and the high loads involved makes this wing one of the most advanced yet robust components we ever delivered. We are excited to contribute to new technologies in the renewable energy sector", says Andreas Simonsson, Senior Design Engineer at Elitkomposit.