Emilsen chose AKVA group as barge supplier
Emilsen Fisk prepares for the future with the order of a new feed barge from AKVA group.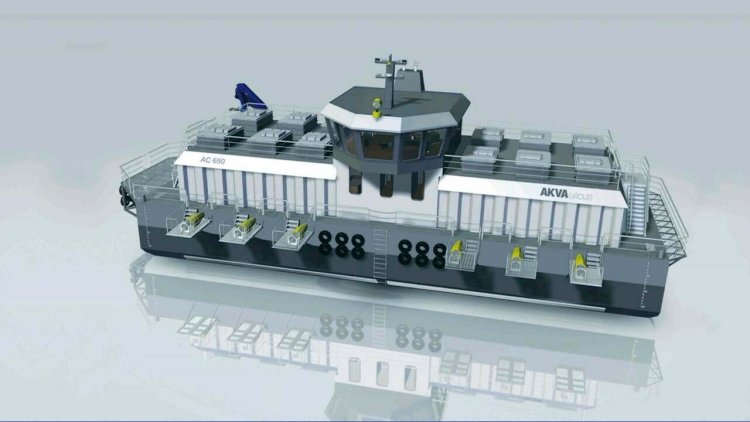 As Emilsen Fisk increases the production of salmon, they want a top-equipped barge, which can withstand all kinds of weather and wind and which can be used in any location.
"Since 2005, we have been supplied with feed barges from AKVA group and are therefore well acquainted with the barges and the equipment. So, it was an easy choice when we needed a new and bigger barge. It is important to us that the operators have the opportunity to live on the barge, in case we change locations in the future. We will have five feed barges from AKVA group with the new barge," says Production Manager Robert Aakvik at Emilsen Fisk.
The feed barge is delivered with 650T feed capacity and an 8-line feeding system with airborne feed transport. The barge contains a control room with a kitchen, and space for daily operations and meetings. A great bathroom with toilet and shower, wardrobe with cupboard and washing machine is also part of the inventory.
The barge is designed to withstand the toughest conditions, therefore Emilsen Fisk has great flexibility for where they want to place the barge in the future.
"We have chosen a feeding facility with airborne transport of the feed out to the cages. We have always had a good experience with airborne feeding. With a battery pack in combination with generator operation, we get a significant saving on fossil fuel, and thus a reduction in CO2 emissions. In addition, there is less noise," he says.
The feed barge is of the type AC 650 Panorama and will be delivered from Tallinn in November 2023 and will be in operation in November in the Rørvik area.
"Our production is increasing, and in line with that, we need a larger feed barge, which is ready for use with top equipment and all facilities. If we are to keep up with the times, we must upgrade and get ready for the future," says Aakvik.
The feeding barge is supplied with the latest generation of AKVA connect, which takes care of feeding, camera management and barge management. The barge is delivered with feeding facilities, energy supply, control rooms and specially adapted equipment such as silage systems, camera systems and a wide range of integrated special adaptations. The barge has 12 silos and is delivered with 2x250kva generators in combination with an AKVA hybrid battery pack.