Damen's Fast Crew Supplier 7011 completes sea trials
The first of Damen's FCS 7011 heads to the Netherlands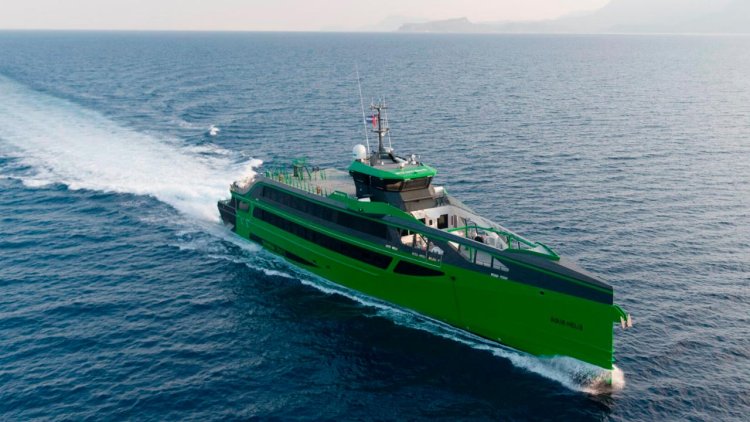 Photo: Damen Shipyards Group
The first of Damen's ground-breaking Fast Crew Supplier (FCS) 7011 class has completed its sea trials off the Turkish coast and is set to begin the passage to the Netherlands.
The offshore energy market will soon be able to experience the capabilities of the 74-metre, 40 knot, 122-passenger, crew change vessel.
The design incorporates the Damen Sea Axe bow, the positioning of the accommodation just aft of amidships, and interceptors fitted within the vessel's stern, all to minimise sensations of motion as it moves through the sea. The FCS 7011 also features a range of motion-compensating technologies to optimise the safety of crew transfers. These include a Kongsberg DP system, a tailor-made Ampelmann gangway and a VEEM gyrostabiliser, operating alongside the MTU main engines, Hamilton waterjets, Danfoss shaft generators, Reintjes gearboxes and Veth bow thrusters.
On arrival in the Netherlands, the Ampelmann gangway system will be installed, making the FCS 7011 ready for trials in the North Sea.