CIP secures world-class global contractor group for energy island project
Copenhagen Infrastructure Partners (CIP) has signed a partnership agreement with four internationally renowned companies within marine and offshore construction services, to develop the energy island in the Danish North Sea.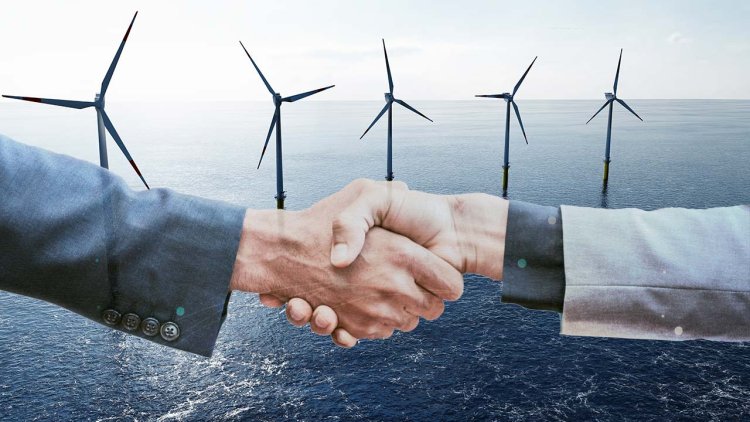 CIP acts as project developer on behalf of an investor consortium composed of PensionDanmark and PFA, two of Denmark's largest pension funds, and Denmark's largest utility company, Andel (collectively known as the "VindØ consortium").
The four chosen contractors, together called the "NJORD Group", are ACCIONA, Boskalis, DEME and MT Højgaard International. The NJORD Group will be advised by engineering consultancy NIRAS.
The energy island in the North Sea will be located approximately 80-100 kilometres off the Danish west coast, where conditions for green energy production based on offshore wind are optimal. The island will be able to connect 10 GW of offshore wind to Denmark and other neighbouring markets, host an innovation zone with potential for large-scale energy storage and Power-to-X technologies, and provide accommodation and operation and maintenance services from onsite harbour facilities.
Thomas Dalsgaard, Partner in CIP, says:
"Copenhagen Infrastructure Partners has thoroughly screened the most experienced experts and the world's best-suited contract partners for the Energy Island project. We are confident that the NJORD Group offers the experience and capabilities needed for a successful project execution in a safe and reliable manner, even in a harsh marine environment far offshore in the Danish North Sea."
"ACCIONA, Boskalis, DEME and MT Højgaard International display, individually and as a group, extensive and complementary experience and equipment, and have successfully developed and constructed many similar projects around the world."
A selection of NJORD Group's projects and relevant operational experiences include a range of innovative construction projects designed to cater for rigorous environmental and regulatory requirements. The reference projects include:
Barrow Island Project: An island constructed in a very strictly regulated natural environment offshore Western Australia with logistical challenges from the project's remoteness and the harsh weather conditions.
Tuas Port Expansion Project: A greenfield port expansion project in Singapore with extensive dredging, excavation and land reclamation, including the design, construction, and installation of concrete caissons for quay walls.
Viking and Vulcan Decommissioning Project: An offshore decommissioning project in the Dutch part of the North Sea, including removal, transportation and disposal services of the Viking and Vulcan oil platforms.
Follo Line and Øresund bridge Projects: Two mega-projects in a Scandinavian setting with the Norwegian Follo Line project, 19.5 kilometres of twin tunnels under construction, and the 7.8 kilometres long Øresundbridgeconnecting Denmark and Sweden.
Fehmarnbelt Tunnel: A link between Rødbyhavn on Lolland, Denmark and the German island of Fehmarn to be built as an immersed tunnel.
The Danish Energy Agency is currently in dialogue with potential bidders for the energy island tender, which is expected to be launched by Q3 2022. CIP intends to bid in the upcoming tender.