ChartWorld and EMH Systems announce the innovative ECAP planning service
ChartWorld teams up with EMH Systems Ltd. to offer advanced environmental compliance planning services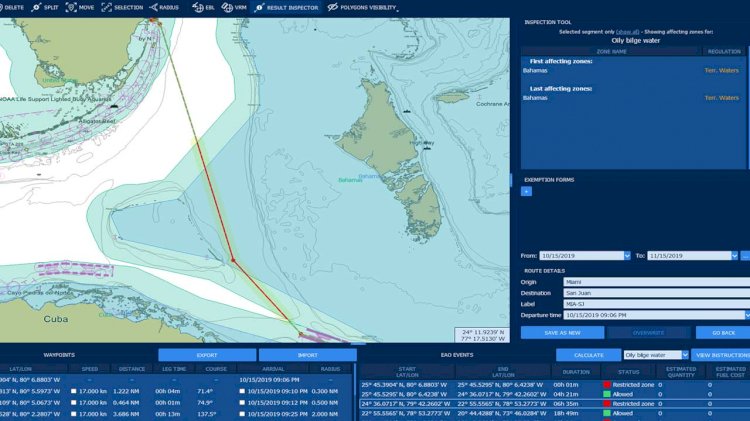 Photo: ChartWorld
ChartWorld International and EMH Systems Ltd. have announced the innovative Environmental Compliance Assistance Platform (ECAP) planning service, which will enable enhanced voyage planning for environmental concerns.
The ECAP planning service will enable shipping companies and managers to have a far greater focus on environmental compliance as part of their voyage planning. Oliver Schwarz, ChartWorld's Business Development Director noted the increasing importance of environmental considerations in voyage planning:
"Cargo owners, and end consumers, and demanding cleaner and more environmentally friendly shipping. This trend is with us, and shipping companies need to prove they are doing more than the bare minimum."
In practice, using ECAP means a company or bridge team can use ChartWorld's route appraisal platform (MyRA) to obtain an "Environmental Voyage Overview." The ECAP platform, powered by EMH Systems Ltd.'s vast global regulatory database, allows for automatic analysis and environmental operation planning for any route within ChartWorld's MyRA system. As a MyRA integrated service, intelligence-driven environmental voyage plans will be automatically made available as early as the route creation stage.
Using this streamlined approach, vessel operators, shoreside managers, and onboard crew will have instant access to all regulatory conditions along their voyage - saving time, ensuring compliance, and improving operational efficiency. MyRA's sophisticated approached to voyage planning, combined with ECAP's algorithms and database, is a first of its kind solution for the industry.
Schwarz explains:
"Efficient planning leads to efficient operations and an overall advantage over what was previously common practice. We believe the ECAP and MyRA working together will be the new norm for any environmentally conscious operator."
Christopher Nagy, a Managing Partner at EMH Systems, added:
"Integrating with such a powerful voyage planning solution allows us to bring new opportunities to the industry. Every route is different. Every voyage is different. With numerous protected areas and complex national regulations in place, planning for a voyage can be cumbersome for even the most experienced professionals. Having this information automatically at your fingertips is an invaluable addition to standard voyage planning tools. Having such technology so easily available is something I could have only imagined while at sea."