AAL transports giant cable carousel for Taiwan offshore clean energy project
AAL transports giant cable carousel (circumference of 73m) from Dubai to Taiwan for a US $2 billion offshore clean energy project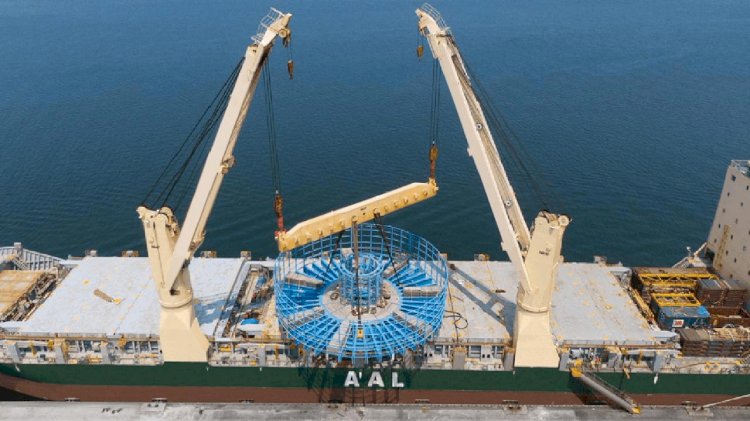 Photo: AAL
Breakbulk and project heavy lift carrier, AAL Shipping has delivered a cable carousel measuring 23 m in diameter (73 m circumference) to Jan De Nul Group, for the Formosa 2 offshore wind farm project, 9.5km off the coast of north-west Taiwan.
The cargo was loaded in Jebel Ali and transported on deck of the 19,000 dwt heavy lift (HL) multipurpose vessel AAL Nanjing to the project marshaling port Taichung. The cable carousel is one of the first major components to be delivered to Taichung Port where works have begun to develop the project's operations and maintenance base. The Formosa 2 project started construction at the end of 2019 and the project will be in operation in 2021. The offshore wind farm is expected to produce enough green energy to power 380,000 households a year and offset 18.75 million mt of carbon emissions in its lifetime.
Yahaya Sanusi, Deputy Head of AAL Transport Engineering, commented:
"Manufactured in Norway's Drammen Yard and designed to spool 3,000 t of undersea power cable, the carousel alone weighed over 370 t. The unit was loaded and discharged using both the Nanjing's port mounted HL cranes and rigged in three points to a 22.5 m lifting beam (with a safe working load of 637 t), which proved to be the safest solution for the lift. Its significant diameter of just over 23 m was slightly less than the 23.4 m beam of the S-Class vessel, but wider than her 18.8 m hatch cover – so it ended-up protruding over both sides of the vessel. Safe to say that we do not leave any stone unturned when planning the optimum transport solution for such complicated cargo shapes and sizes."
Christophe Grammare, Commercial Director of AAL, added:
"This particular cargo was carried on one of our four 'S-Class' vessels – a young 19,000 dwt class that is extremely flexible and features a significant 700 t heavy lift capability. With the fleet employment strategy we have in place, we can offer sailing frequency and vessel choice – from 19,000 dwt to 33,000 dwt – to our customers trading between the Middle East and Asia and westwards towards Europe and the US, for multipurpose cargoes of any type and size.
Of course, added safety and security measures worldwide due to COVID-19 have put a greater strain on our sea and land-based teams and operations, but we accept these measures are now part of the new normal in the shipping sector and carefully factor them into our scheduling and planning to ensure that we manage and then meet the expectations of our customers at all times."